The Whipple Library holds a number of nursing textbooks dating from the early 1900s to the 1940s. They aimed to provide the nurse with the skills and knowledge she needed for patient care, to inform them of the various characteristics, attributes and morals they should have, and how they should interact with colleagues. These books even taught the nurse the duty she owed to herself, as 'if she thinks, reads, and talks about nothing but nursing, she contracts her outlook on life, lessens her intelligence, and becomes somewhat of a nuisance to her friends'.
P.H. Mitchiner and E.E.P. Macmanus
Nursing in time of war

(London: J & A Churchill, 1939) STORE 112:27
Click on an image to enlarge
This book, written by a surgeon at St Thomas's Hospital and a matron of St Guy's Hospital, was intended to be used as a pocket book by the civil nursing reserve, nursing auxiliaries and trained nurses. It deals with the setting up of first aid posts, converting buildings into hospitals and the establishment of camp hospitals. Its chapters also cover how to treat people who have been injured through air raids and gas attacks. An appendix in the back explains how equipment and supplies can be improvised if there is low stock. This includes filling cotton bags or flour sacks with straw for mattresses and pillows; using enamel basins and jam jars for bedpans and urinals; and making a hat to protect nurses from the sun out of a cabbage leaf, a handkerchief and some paper.
Margaret E. Hitch and C.F. Marshall
Baillière's nurses' complete medical dictionary

(London: Baillière, Tindall and Cox, 1941) 9th ed. STORE 106:27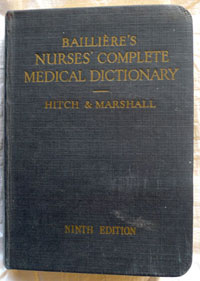 First published in 1912, and currently up to its 25th edition (2009), this small dictionary has a large collection of appendices covering surgical instruments, blood transfusion, bandages and diets. The preface from the previous edition (published in 1939) demonstrates that some sections were added due to 'these war days'.
Henry Robinson
The midwife's pronouncing dictionary of obstetrical and gynaecological terms

(London: The Scientific Press Ltd., 1925) STORE 106:25
According to the preface to the first edition, this book was the result of nurses and teachers of the Central Midwives Board wanting an inexpensive and portable dictionary that could be used during lectures and alongside textbooks.
W. Gordon Sears
William Gordon Sears (1901–1983) was medical superintendant at the Mile End Hospital in London for most of his career. He authored numerous standard textbooks for nurses, with one of them, Medicine for nurses, running to 34 editions between 1935 and 1979. His books were also translated in to French, Spanish, Afrikaans and Italian. He was an examiner to the General Council of Nursing for a number of years. The Whipple has two of his books, Anatomy and physiology for nurses (London: Edward Arnold & Co., 1945) STORE 112:25 and Materia medica for nurses: a textbook of drugs and therapeutics (London: Edward Arnold & Co., 1943) STORE 112:26.
Handbook for Queen's nurses by some Queen's Superintendents

(London: The Scientific Press Ltd, 1924) STORE 112:23
The Queen's Nursing Institute was established in the 1880s, gaining a Royal Charter in 1889 naming it 'Queen Victoria's Jubilee Institute for Nurses'. It was created to provide the training, support and supply of district nurses. The book covers a number of topics including how to become a Queen's nurse and the actions to take in certain medical cases. It is also one of the many books that have advertisements.
E.W. Hey Groves and J.M. Fortescue-Brickdale
Text-book for nurses: anatomy, physiology, surgery and medicine

(London: Henry Frowdes, 1919) 2nd ed. STORE 106:29
First published in 1912, this second edition has the addition of chapters on war surgery, diseases of the skin, and symptoms and treatment of common poisons. Written by two senior doctors, who were also members of the Royal Army Medical Corps, it aims to supplement lectures given to nurses and help the nurse '...understand the principles underlying the medical and surgical treatment which is her duty to assist in carrying out'. One of the authors, Ernst William Hey Groves, played an important role in the development of orthopaedic surgery. What makes this volume unique is its connection to its previous owner, who has inscribed the book and left inside a piece of heather, a photograph and a poem.
A. Millicent Ashdown
A complete system of nursing

(London: J.M. Dent & Sons, 1923) 3rd ed. STORE 106:28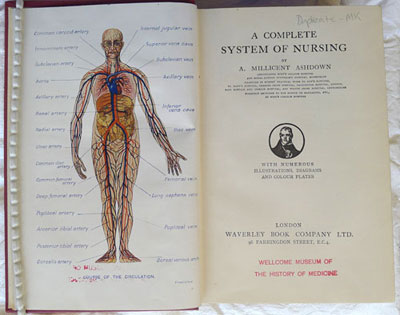 First published in 1917, this book was reprinted and revised numerous times up to the late 1940s. Filled with several illustrations, the book aims to cover every duty a nurse should perform, diseases and their treatments, and how to deal with emergencies. It also covers various types of specialized nursing including the nursing of children which states that 'The nurse should be bright, cheerful and merry, yet sympathetic and tender, observant, firm but kind. Children take to a nurse more quickly as a rule if she is short and plump'.
The science and art of nursing: a guide to the various branches of nursing, theoretical and practical by Medical and Nursing Authorities

(London: Cassell and Co. [1909]) STORE 106:320–23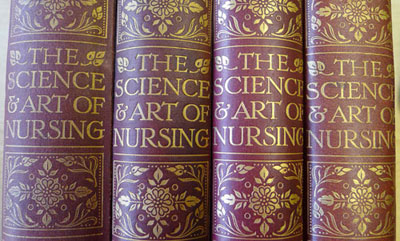 The preface describes this book as '... a work for Nurses by Nurses and by medical men who are engaged in the teaching and training of Nurses'. The four volumes cover a large range of subjects including the legal position of nurses, hospital management, anatomy and physiology, public hygiene, the nursing of different types of disease, midwifery, and nursing of the mentally ill. It is also the only book in this display that contains a section on male nursing.
W.T. Gordon Pugh
Practical nursing including hygiene and dietetics

(Edinburgh: William Blackwood and Sons Ltd, 1933) STORE 106:24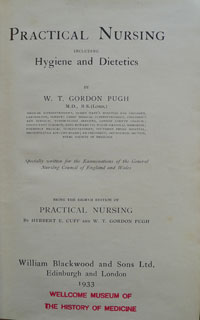 This book seems to have started life as 'Practical nursing' by Isla Stewart and Herbert E. Cuff at the end of the 19th century. After the deaths of both authors Pugh, who had collaborated with the authors for previous editions, continued to rewrite and revise the book. It ran to 21 editions and was last published in 1969. This book contains examination questions at the end of each topic and the title page states that it was 'specially written for the Examination of the General Nursing Council of England and Wales'.
J.K. Watson
A handbook for nurses: with examination questions based on the contents of the chapters

(London: The Scientific Press Ltd, 1921) 6th ed. STORE 106:30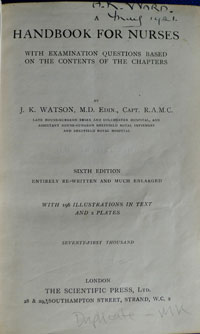 First published 1899, this 6th edition aims to give the nurse enough medical knowledge so that she is capable in her duties as the author believes that '... the more highly qualified is the nurse the less likelihood is there of her attempting to usurp the rôle of the medical man; it is the ignorant and badly trained nurse who thus brings discredit on her nursing-sisters'. The book covers anatomy, physiology and various diseases as well as the chapter 'Nursing and Management of the Sick' which covers the attributes of the nurse, her uniform and behaviour towards colleagues.
Margaret S. Riddell
Lectures to nurses: a complete series of lectures to probationary nurses in their first, second and third years of training

(London: The Scientific Press, 1928) 3rd ed. STORE 112:24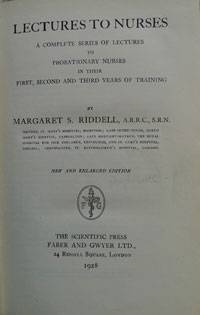 Margaret Riddell wrote two books for nurses, A first year Nursing manual and the one shown here. This volume covers the syllabus prescribed by the General Nursing Council for the Examination for State Registration including chapters on hygiene, care of the sick, infectious diseases, wounds, and specialized nursing. The introductory chapter covers the personal qualities and qualifications that a good nurse should have.