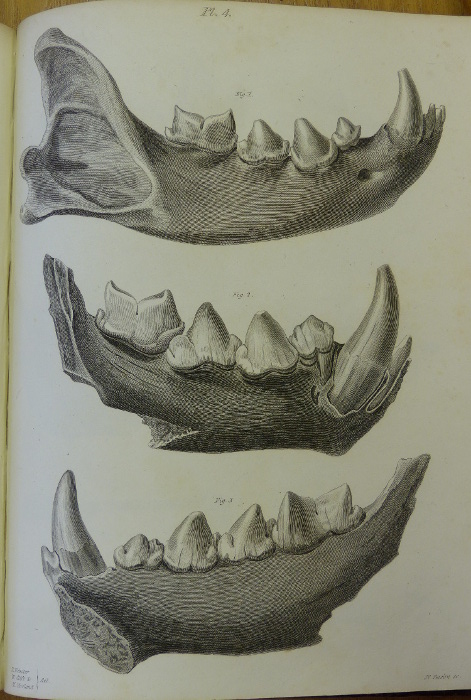 William Buckland,
Reliquiæ diluvianæ : or, Observations on the organic remains contained in caves, fissures, and diluvial gravel, and on other geological phenomena, attesting the action of an universal deluge.
London : J. Murray, 1823.
STORE 121:29
Clergyman and lecturer at Oxford University, William Buckland (1784-1856) became well-known for his investigations of fossil remains, most famously the excavation of Kirkdale Cavern in Yorkshire in 1821. Here he discovered numerous fossil bones, including those of hyenas, which he compared to modern hyena bones to support his findings. His interpretation of the find at Kirkdale as an "ante-diluvial" den of hyenas caused a sensation as he concluded that these species had once lived in Northern Europe before a flood, or deluge, event buried their bones, and those of their prey, in layers of mud. In earlier work, Buckland identified this "diluvial" event with the story of Noah and the Flood.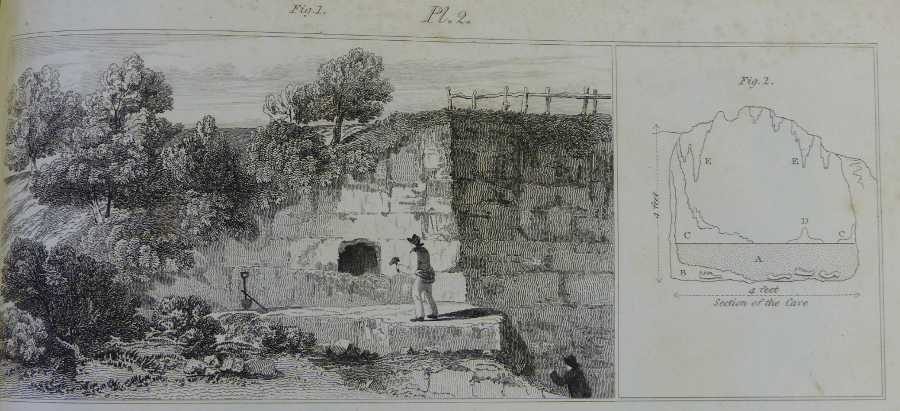 William Buckland became known for his lively character and enthusiastic lecturing style and a number of cartoons by friends and associates appeared during his lifetime. This broadsheet illustration and poem was created by William Conybeare (1787-1857), a clergyman, geologist and close colleague of Buckland in stratigraphical studies. It shows Buckland reaching beyond the limits of time and emerging in his hyena cave in the deep past.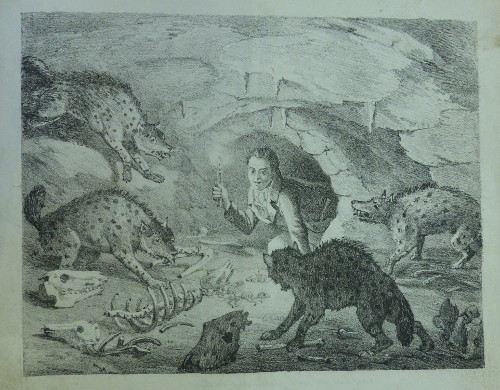 William Conybeare,
'The Hyaena's Den at Kirkdale near Kirby Moorside in Yorkshire, discovered A.D. 1821'.
Donated by Martin Rudwick