The Library has a multi-function device (MFD) for printing, scanning and photocopying in black & white and colour, A4 and A3. This is the only colour printer in the Department.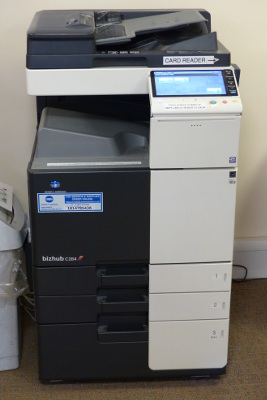 To print, scan or photocopy at the Whipple you will need your blue University card or white University Library card, and for printing also your UIS password.
Our system uses the University's DS-Print service, which is also used in several Colleges and other departments. You can choose whether to add credit to your common balance, which you can use to pay for printing at any printer in the scheme (e.g. at your College/another department, but not at the UL), or to the local balance, which can be used at the Whipple only.
Add to your common balance

online

. Please note that there is a minimum charge of £1. Any unspent credit at the end of your course cannot be refunded.
Add to your local balance in cash at the Whipple Library staff desk. There is no minimum charge.
Files can be sent to the MFD for printing from your own computer, tablet or smartphone.
University Information Services: How to Print
Please ask Library staff if you need help with the printing, scanning and photocopying service.
The DS-Print service is available to current staff and students of the University only at present. Departmental Visitors (including visiting fellows, scholars and students) and external Library users who need to print or photocopy should speak to a member of Library Staff. Unfortunately it is not possible to offer self-service scanning to Visitors and external users at present.
All photocopying and scanning must comply with the terms of the CLA Licence which is displayed next to the MFD. The Copyright Licensing Agency permits copying and scanning within agreed limits (usually one article from a journal issue, or one chapter or 10% from a book, whichever is the greater) for personal research purposes only. Copying and scanning for commercial purposes is prohibited. It is your responsibility to ensure you comply with the CLA licence when using the Whipple Library MFD. If in doubt, please ask!
Charges for printing and photocopying
Our current charges are as follows:
 
A4
1 side
A4
2 sides
A3
1 side
A3
2 sides
B&W
6p
6p
11p
11p
Colour
30p
30p
60p
60p
Scanning is free!