The Whipple Library is laid out in two areas:
The Main Library, on 4 levels (in a remodelled lecture theatre)  
The Old Library, accessed via the main library entrance, and situated adjacent to the Whipple Museum's New Gallery.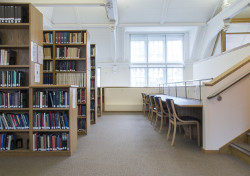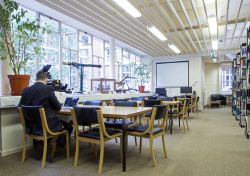 Both areas are devoted to quiet study space (groups can work in the coffee room on the top floor of the Department - ask staff for directions if you need them). Sockets are provided for laptops at most desks.
Wi-fi
Two wi-fi services are available throughout the Library.
Eduroam is the preferred network. You will need to

configure your device

before using Eduroam for the first time. External users should set up Eduroam at their home institution before arriving.
UniofCam is a browser-based wi-fi service which requires a

Raven password

.
PC access
There are 4 'kiosk' machines around the Library (on Levels 1, 2 & 3), where you can search the library catalogue and open PDF documents from the Internet (including Moodle).
The Library also has a Non-Print Legal Deposit terminal on Level 4 (linked to the printer on Level 2) which provides access to books and journals received by the University on electronic legal deposit. This is where you can read material designated in iDiscover as 'Online access restricted to designated PCs in the main UL + affiliate libraries'.