Mary Ward (1827-1869) took a keen interest in natural history and astronomy from childhood. Her enthusiasm led to serious study and she produced microscope slides and skilled and accurate illustrations, both for her own work and for others. Ward put on exhibitions for her family and friends and hand-printed her own booklets. Her Sketches with the microscope began as a collection of letters to a childhood friend. It was first published locally in 250 copies in her native Ireland before coming to the attention of the London publisher Groombridge & Sons, who bought the copyright and republished it as A world of wonders revealed by the microscope.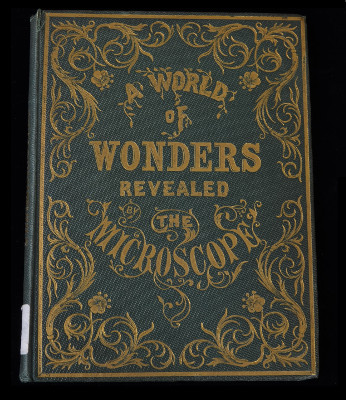 A world of wonders revealed
by the microscope : a book for
young students, by Mrs. W. 
London : Groombridge and Sons,
1858.
STORE 200:14
This was so popular that it went through a number of editions and revisions under various titles, as did her companion volume on the telescope, until simply published as The microscope and The telescope. Although she had no real claim to the title 'The Hon. Mrs Ward', at a time when it was difficult for a woman to find a publisher this was perhaps an attempt to reinforce her authority as an author. Her illustrated work combined a 'panorama' of the natural world, reflecting the love of spectacle and beauty in society, and a guide to the practical use of the microscope at a time when the instrument was gaining a wider audience. Ward's observations were made using the microscope bought for her by her father when she was 18. Made by Andrew Ross, a leading instrument maker of the period, Ward included an illustration of it in Plate 1 of her book.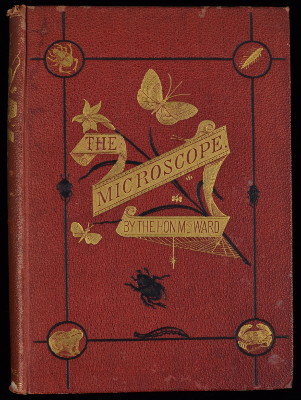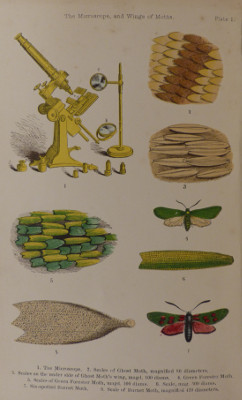 The microscope, or descriptions of various objects of especial interest and beauty, adapted for microscopic observation, by The Hon. Mrs. Ward.
London : Groombridge and Sons, 1870.
3rd edition.
STORE TURNER 61