The microscope, and some of the wonders it reveals, by Rev. W. Houghton.
London, Paris & New York : Cassell, Petter, Galpin & Co., [c.1872].
4th edition.
STORE TURNER 97.1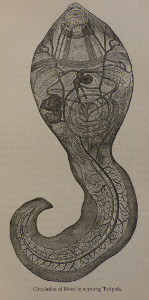 William Houghton (1828-1895) was an active writer and populariser of science who wrote books for both children and adults. His works centred on providing a religious framework for science. Although he often deferred to professional scientists and natural historians to reinforce his writing, he presented the investigation of the natural world as ultimately revealing the works of God and emphasised the beauty and wonder of the microscopic world. This 'little Elementary Hand-book' was written for those with little or no experience of using a microscope and aimed to inform readers on a range of subjects in which the instrument was used and to encourage them to undertake their own study. First published in 1872, it was priced at 2 shillings and sixpence.