RADIUM EXPLAINED.
William Hampson, 1905.
Radium Explained: A Popular Account of the Relations of Radium to the Natural World, to Scientific Thought, and to Human Life exemplifies the early 1900s vogue for radium. Radium watches (depicted in the plays Radium Girls and These Shining Lives) joined a slew of other products like "radium collars, radium stoves, and radium polish." The book even extolls radium's ability to cure lupus and ulcers.
Whipple Library, STORE 127:19.
PHYSIQUE ATOMIQUE ET PHILOSOPHIE. CONFÉRENCE PRONONCÉE À LA MAISON DE CHIMIE LE 25 NOVEMBRE 1943.
Carl Friedrich von Weizsäcker, 1944.
A protégé of Werner Heisenberg, German atomic physicist Carl Friedrich von Weizsäcker claimed to have brought about the 1941 meeting between Heisenberg and Bohr that inspired the play Copenhagen. After the Second World War, French authorities sought to minimize the influence of von Weizsäcker—making this pamphlet (from an atomic physics and philosophy conference held in Nazi-occupied Paris) a rare copy.
Whipple Library, Special Collections (recent acquisition).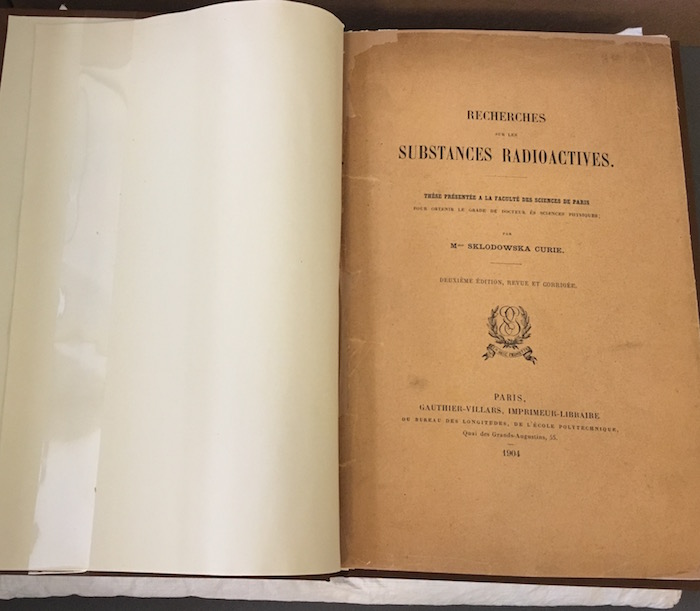 RECHERCHES SUR LES SUBSTANCES RADIOACTIVES.
Marie Skłodowska Curie, 1904.
The year after sharing the Nobel Prize for Physics, Marie Curie published this second edition of her doctoral thesis, "Research about radioactive substances." Much of it investigated radium, which Curie and her husband Pierre were the first people to isolate. Curie did not yet know radium's devastating effects, depicted in the plays These Shining Lives and Radium Girls.
Whipple Library, STORE 15:14.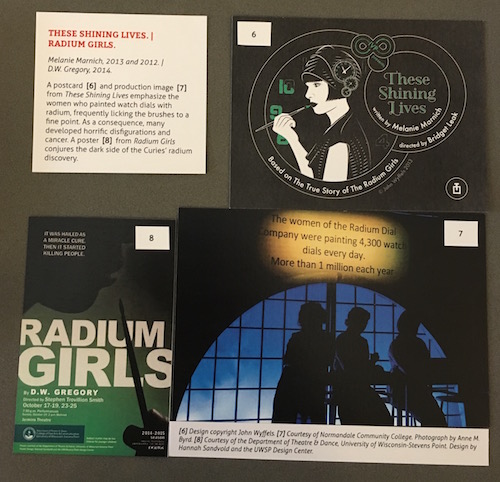 THESE SHINING LIVES. | RADIUM GIRLS.
Melanie Marnich, 2013 and 2012. | D.W. Gregory, 2014.
A postcard [6] and production image [7] from These Shining Lives emphasize the women who painted watch dials with radium, frequently licking the brushes to a fine point. As a consequence, many developed horrific disfigurations and cancer. A poster [8] from Radium Girls conjures the dark side of the Curies' radium discovery.
[6] Design copyright John Wyffels. [7] Courtesy of Normandale Community College. Photograph by Anne M. Byrd. [8] Courtesy of the Department of Theatre & Dance, University of Wisconsin-Stevens Point. Design by Hannah Sandvold and the UWSP Design Center.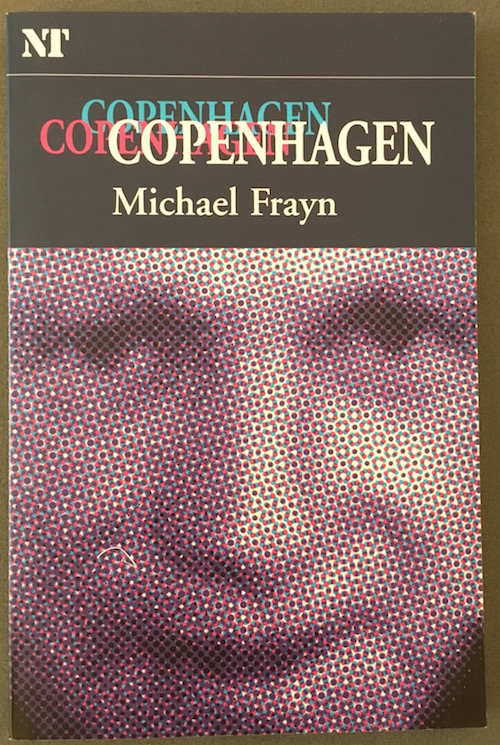 OPPENHEIMER. | COPENHAGEN.
Tom Morton-Smith, 2015. | Michael Frayn, 1998.
The ethics of atomic science take centre stage in two dramas about twentieth-century physicists. In Oppenheimer, J. Robert Oppenheimer and other members of the Manhattan Project reflect on the morality of designing and dropping the atomic bomb. Frayn's Copenhagen uses Heisenberg's Uncertainty Principle as a metaphor for the historical uncertainty surrounding the 1941 meeting between physicists Werner Heisenberg and Niels Bohr, who were working for opposing sides of the war.
Royal Shakespeare Company. Courtesy of Alona Bach. | Methuen Drama. Courtesy of Alona Bach.
VACUUM DISCHARGE TUBE.
Cavendish Laboratory, 1900-1950.
Atomic science was itself a kind of theatre in the first half of the twentieth-century. When electricity was applied, sealed glass discharge tubes like this one (featuring a whelk shell target) manipulated the electrons of gas molecules to produce a glowing fluorescence. Public fascination with the science of radiant things still motivates modern plays like those described here.
Whipple Museum, Accession Number 1957.