Half-hours with the microscope ; being a popular guide to the use of the microscope as a means of amusement and instruction, by Edwin Lankester.
London : Robert Hardwicke, [c.1860].
2nd edition.
STORE TURNER 86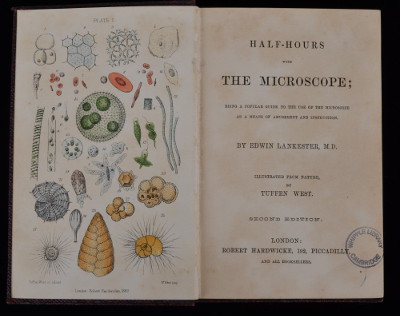 The public health reformer, natural historian, lecturer and skilled microscopist Edwin Lankester (1814-1874) first published his Half-hours with the microscope in 1859. This immensely popular book went through numerous editions and was still published decades after the author's death. Described as 'a popular guide', the book was framed as a series of half-hour adventures with the microscope in the home, garden and further afield, and points to the developing role of the microscope within the family home and life in the 19th century.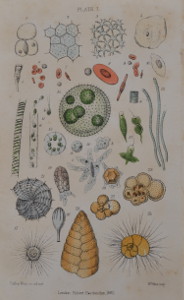 It was illustrated 'from nature' by Tuffen West, one of the most skilled and prolific illustrators of microscopical observations of the period. The idea of the microscope as 'a means of amusement and instruction', appearing here in the sub-title, was expressed in much of the literature on microscopy produced at this time.