EMILIE... | INSTITUTIONS DE PHYSIQUE.
Lauren Gunderson, 2009. | Emilie du Châtelet, 1740.
Newton's ideas diffused into 18th-century French culture thanks in large part to the Marquise du Châtelet. Beyond translating and commenting on the Principia, she constructed her own unified philosophical system based on Newtonianism in Institutions De Physique [1]. This play excerpt [2] shows du Châtelet probing the limitations of a Newtonian equation, concluding that velocity ought to be squared. Meanwhile she deals with her needy lover, the Enlightenment darling Voltaire, whom she helped to write the first French popularization of Newton's Opticks.
Courtesy of Lauren Gunderson. | Whipple Library, STORE 19:1.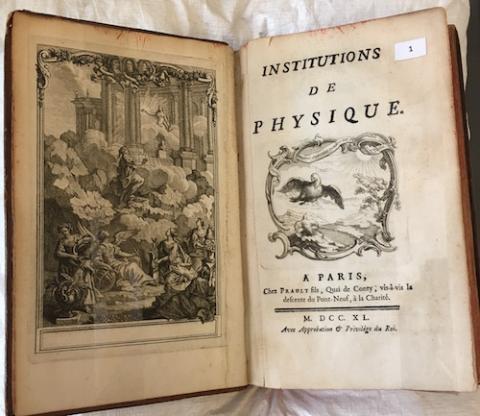 ARCADIA.
Tom Stoppard, 1993.
Audiences of science-theatre don't always arrive with an arsenal of historical and scientific knowledge at the ready. A production of Arcadia, performed in 2013 at the American Conservatory Theater in San Francisco, brought its audience up to speed with a section in the playbill explaining "The Science of Arcadia," which includes Newtonian thought.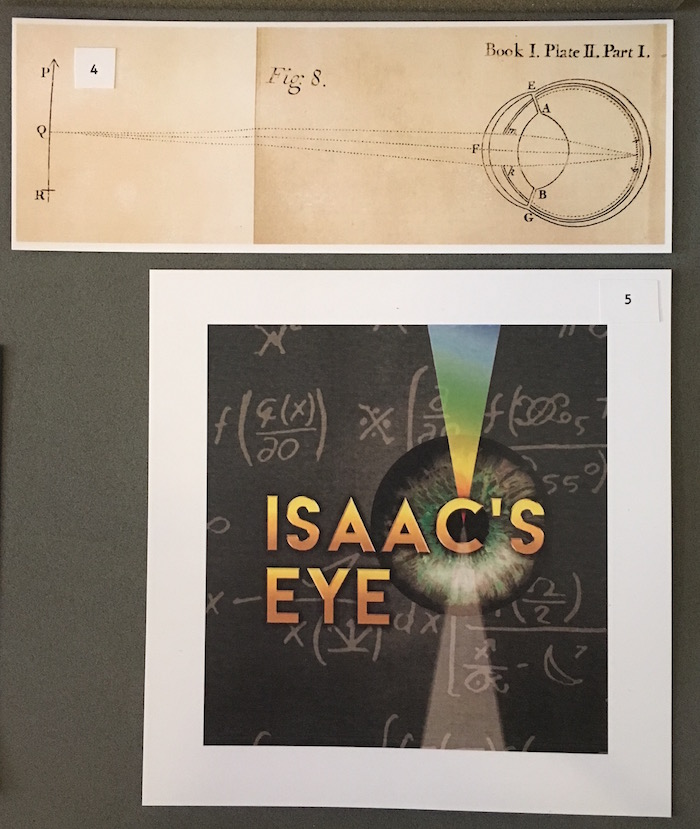 OPTICKS. | ISAAC'S EYE.
Isaac Newton, 1704. | Lucas Hnath, 2017.
Isaac Newton (1642-1727) sustained a rivalry with the natural philosopher Robert Hooke, notoriously waiting for Hooke to die before publishing this first edition of Opticks [3]. Hooke often criticised Newton's experiments about light and the eye [4] (here reproduced from Opticks) for being unoriginal. Isaac's Eye dramatizes the relationships between Hooke, Newton, and Newton's partner Catherine. This poster [5] from a 2017 San Francisco production highlights one of Newton's optical experiments — including impaling his own eye with a needle,  which makes for a gripping scene in the play.
Design by Richard Gutierrez. Courtesy of Custom Made Theatre Co. | Whipple Library, STORE 70:11.